Posted by I Am Sacred on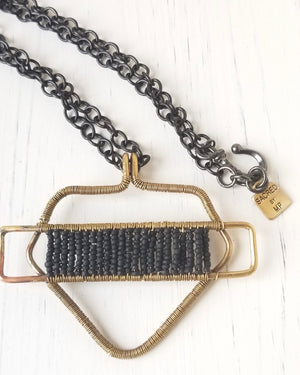 Update: Picture is the finished product that I finally got it where I wanted it to be! I'm absolutely in love with it!. I just wanted to share some updates on my creative process. I'm really taking my time on creating this next line because, due to COVID, I now have the time to really create a brand versus individual lines of jewelry. I want to create something that each piece looks like it is from the same designer and from the same family, yet is individually unique. Plus, I want to create pieces that are timeless and practical. Don't...
Posted by I Am Sacred on
Made to order: Please allow 4-5 business days to make your order before shipping. Hand torched, soldered, hammered, woven, and dyed. Each piece is uniquely different and its appearance may vary slightly. This striking geometric statement necklace has antiqued and torched brass accents to give it a nice warm tone. It is paired with matte black lava seed beads that are handwoven to the pendant for a beautiful contrast in both texture and color. The black lava beads can be used as an essential oil diffuser by simply placing a drop of your favorite oil on your finger and then rubbing it on the...